Barehanded Octopus ®
An exclusive, itinerant, guided snorkeling looking for Octopus in their natural environment, to learn about their unbelievable abilities.
It is a snorkeling trip over shallow waters from 1 to 3meters usually. The jump in the water is preceded by a short briefing. The briefing includes many tips on how to spot an octopus, where to looks, signs of its presence, the main food on his diet, and some of his manias! Some basic snorkeling and freediving instructions will be also given to guests.
You'll exchange information in real-time with the guide in the water. Once an octopus is found, you'll be advised about his position. You can try to spot him yourself (it will be not easy, even if you are 1 meter away from!!) or just let the guide explain each specific camouflage the octopus creates to hide and shelter himself. You'll also have the chance to interact with the Octopus and to understand the reason why is considered one of the smartest and most bizarre creatures of the Sea.
The Barehanded Octopus locations we snorkel are also some of the most spectacular sea places of Sicily. Immersed in stunning natural landscapes, often also full of historical places around, in order to give you a comprehensive Sicilian coastal experience.
Not only Octopus! The selected snorkeling spots allow visitors to frequently meet Muray eels (Muraena Helena), Cuttlefish, Red Mullets, different species of Marine stars, crabs, needlefish, wide-eyed flounder, various members of the snappers family, Mollusks and seashells, and many other colored fish.
"A snorkeling but with a mission: finding and interacting from very close with the craziest ocean creature in the world!"
The boat we use for the Barehanded Octopus Boat Trip is comfortable and equipped (with toilette and freshwater shower). It leaves from a furnished marina, and easily stops and anchor everywhere thanks to a GPS anchor.  Is also possible to go Barehanded Octopus Shore Trip, without a boat, accessing the water from beautiful and secluded beaches.
Collecting sea urchins is another particular technique you could learn on this trip, discovering the quantities, technique, species and some biological aspects of this strange Mediterranean creature.
Before heading back from a boat trip, we love to prepare a particular lunch on the water, based also on the guests preferences.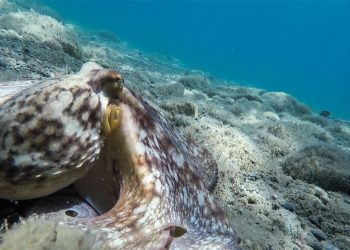 Barehanded Octopus Boat Trip
​Capacity: up to 6 persons
Duration: 6hrs
Departure: 8,30am or 1pm
Price: from 490 EUR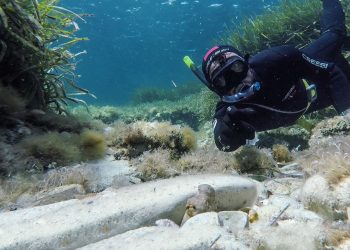 Barehanded Octopus Shore trip
​Capacity: up to 6 persons
Duration: 6hrs
Departure: 8,30am or 1pm
Price: from 350 EUR
More Shore fishing and Camping Packages